The BCM50 and BCM450 were Telephone Systems manufactured by Nortel for the SME market. They had a comprehensive range of features and were ideal for the small to medium telephone system application.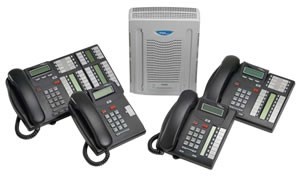 Unfortunately, Nortel announced it would cease operations in June 2009 and the BCM 50 and BCM 450 systems was made "end of life" shortly after that. There is now a schedule in place to wind down these product in an organised manner.
28th September 2012, Last Order date for discontinued order codes.
1st October 2012, Discontinued Order Codes withdrawn from sale.
October 2015, BCM upgrade and expansion order codes withdrawn for sale.
October 2015, Harware and software manufacturer's support including technical support will be available until this date.
Many customers were happy with their BCM systems and do not want to change. However, at present, it is increasingly difficult to support this product and in many cases problems can be both very costly and can take a long time to be resolved. If you do not have a maintenance contact to cover the maintenance of this telephone system faults will be handled on a best efforts basis. If you are the owner of this product, there is now a significant risk in continuing with its use. Spectrum Communications, who have experience in maintaining these products, will in any case make effort to resolve whatever problems may arise with your existing system. However, unfortunately, we are unable to offer new maintenance contracts on this product.
The Ericsson LG product range offers an economic replacement for the BCM 50 and BCM 450 product range. There relevant features of this product range is as follows
A full range of both IP and Digital phones
VoIP ready and in many cases fitted as standard
Excellent unified communications features
Comprehensive range of mobility options
Easy to use User Web Admin
Call Centre functionality on Board
If you require any further information in relation to this matter please contact us or give us a call on 01 4291246.